Generative AI will be an integral part of our everyday lives in the future and companies are already looking at how they can use generative AI sustainably within their organisation. The simplest use case for generative AI in a company is a classic assistant that helps an employee to process internal expertise faster and better. With the current hype, every company wants or needs to be involved. But how can an internal AI-based assistance system be used as efficiently as possible?
The status quo for comprehensive, AI-based assistance systems
Various CRM, archive system and intranet providers are currently developing their own co-pilots or assistance systems to cover the various use cases of generative AI in the company – including Microsoft, of course, but more on that later. A supposedly simple solution for customers to introduce generative AI. However, there is a catch:
Companies use various IT systems and so far the assistance system (or copilot, buddy, secretary, etc) only supports the software ecosystem of the respective provider. And from a technical perspective, this will not change, as traditional software providers will not have enough resources to support a cross-system assistance system. For customers, this means that they will have to decide in favour of one system or buy the respective AI-based assistance system (if available) for each individual tool at great expense. In the long term, this is both expensive and frustrating for the employee, as they will never have truly comprehensive access, but will always remain limited to the ecosystem of a specific provider. It therefore makes sense for companies to pool their existing resources and invest in a comprehensive, AI-based assistance system. However, if you try to bundle all information in one ecosystem and also use the provider's AI-based assistance system, the vendor lock-in increases again.
Screenshots of the results of some queries from our cross-system AI assistant amberAI
In order to introduce an AI-based assistance system in compliance with the GDPR, a number of requirements must be met, such as the consideration of access rights or appropriate hosting. Another advantage of a corresponding assistance system, particularly in terms of sustainability, is that it does not need to be retrained. Retrieval augmented generation is therefore the technology currently used to implement such a system. The linked blog article explains how amberAI works. This enables amberSearch to provide corresponding assistants without training a customised AI model. The fact that Retrieval Augmented Generation uses a two-stage process (first rights-based search in an index, then context-based generation of an answer) means that the above-mentioned requirements can be met and there is no need to train a custom AI model. This makes the use of generative AI much more sustainable, as otherwise a separate AI model would have to be constantly updated (see blog post on self-trained AI models).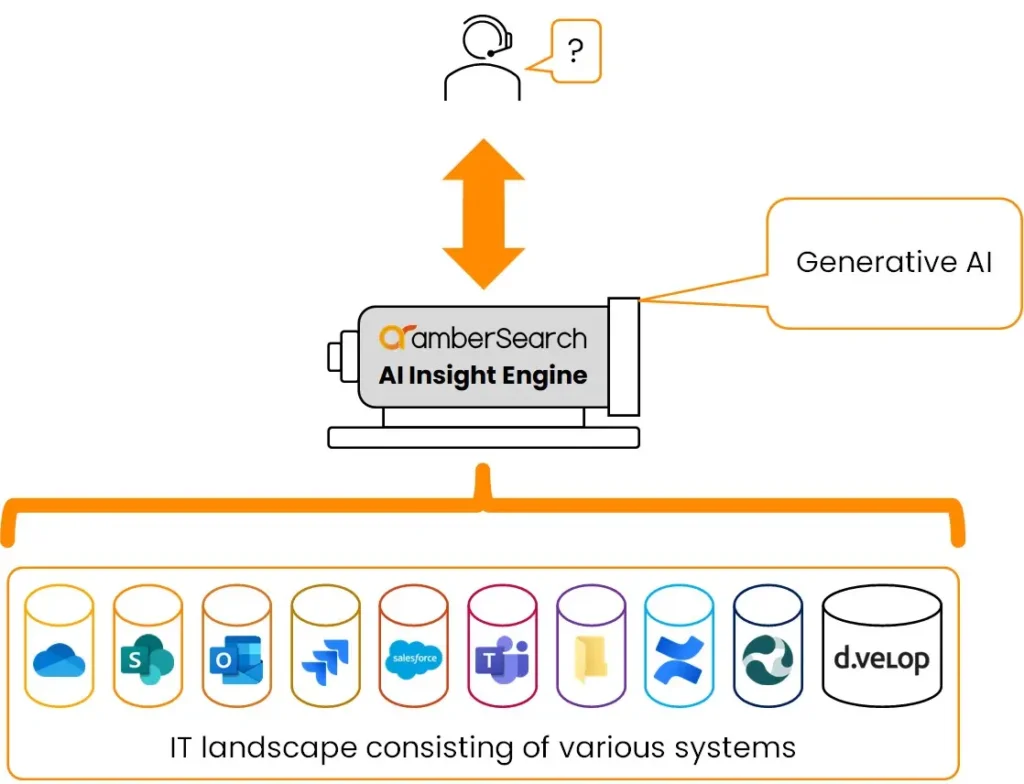 Illustration of how an AI-based assistant could be implemented across the board
How is a cross-system AI-based assistance system implemented?
At amberSearch, we have taken our enterprise search amberSearch as the basis for our assistant amberAI. This enables us to use standard connectors to establish the connection to the company's various IT systems (e.g. M365, Atlassian, network drives, d.velop & Co) and to take the existing access rights into account during the search process. As we know that our customers' IT resources are limited, amberSearch and amberAI are designed in such a way that the solution can be implemented with minimal effort (<0.5 days) with help. From a technical point of view, this includes the integration of other systems into amberAI on the one hand, but also of amberAI into the operational systems on the other. An exciting realisation that we have at amberSearch: An AI-based assistance system will only be used by employees if it is seamlessly integrated into the existing systems. That's why we at amberSearch have created various options for our users to be able to utilise amberAI:
Webapp
Teamsapp
Desktop app
Mobile optimisation
Iframe for all iframe-capable systems
Chrome plugin
….
When selecting a comprehensive AI-based assistance system, it is important to ensure that it can be integrated into the IT systems and that it enables better availability in the existing IT systems. We have also written a blog article that deals explicitly with this topic.
How much effort is involved in integrating a comprehensive AI assistant?
The actual implementation effort always depends on the specific circumstances. But if amberAI is to be hosted as a managed service, then app registrations must be set up for online systems and a VPN in connection with service accounts for on-premise systems. The technical effort for implementation is therefore less than <0.5 days. From the outside, however, it is difficult for us to see how complex the approval processes are so that an IT administrator can carry out the corresponding steps. Anyone working with this technology should have a basic understanding of the technology so that expectations can be realised.
Chat with documents
The cross-system use of such systems is a use case for AI-based assistance systems. Another extremely high added value is chatting with documents or internal company content. If an assistance system does not offer this added value, employees will switch to using any online tools that have not been approved by IT to create summaries or analyses of documents. This is why a good AI-based assistance system is also able to solve such use cases:
Screenshots from the document chat from our AI amberAI
Try amberAI
To illustrate our convictions, we at amberSearch rely on the motto 'show, don't tell'. For this reason, we have developed a comprehensive demo system that includes over 10 connected systems (drives, M365, Atlassian, d.velop & Co). This allows everyone to experience the added value of our solution directly. This is the link to the demo system.
amberAI vs. Microsoft Copilot
Many companies use various Microsoft products and are therefore considering Microsoft Copilot as a potential investment. However, Microsoft is not exactly making it easy for customers (as of Q4 2023) to use Copilot. For this reason, we have taken the time to explicitly position ourselves against Microsoft's Copilot in this blog article.